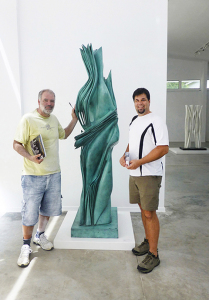 Working as an architectural photographer since 1991, I have had many artistic experiences while traveling throughout the US and twenty countries around the world.
Making the transition to the fine arts in 2010, I started by using what came naturally to me, visualization.
My mind sees images, constantly projected, overlapping and flying by on many tangents. These visions become my ideas, which after being sketched and revised, evolve to become studies that may turn into my art.
Travel and new experiences have opened my mind up to so many more possibilities.
This blog will show a few of these day to day experiences.
(The above photo is when I met Pablo Atchugarry at his studio in Uruguay. There is a great story about the meeting so ask me the next time you see me.)